If you do not see the service you are looking for listed below, please feel free to contact us to ask about it. We are more than happy to help you with what you my need.
Small Animal Services Offered at St Lawrence Veterinary
Preventive Medicine / Vaccinations
It is always easier to prevent a problem than it is to correct an issue after it has developed. A cornerstone of good health for your pet involves a regular schedule of comprehensive health check-ups as well as vaccinations at prescribed intervals. Every pet will have a customized set of recommendations based on things like age and risk factors for exposure to disease. All pets should be examined at least once every 12 months.
Internal Medicine
Unfortunately, our pets will sometimes get sick. This can be a very stressful situation. If and when this happens, you can trust that we will be prepared to help your companion with our years of clinical experience supported by our skilled and compassionate hospital staff. Many tests including bloodwork, x-rays, and ultrasound can be urgently performed in clinic when needed. Other more sophisticated testing is sent to an external reference laboratory when required. Be assured that you will always play an active role in the decisions made for your pets healthcare. Our approach is to give you our best recommendations and then work with you to formulate a plan that works for everybody.
Dentistry / Oral Care
Good oral health is a key aspect of general health. As part of every comprehensive examination, we will evaluate the teeth and oral cavity, point out any areas of concern, and develop a treatment plan. If procedures are required, we will administer a general anesthetic so that a thorough and professional dental scaling and polishing can be provided. We also have digital dental radiography to complement our assessment. When surgical extraction of teeth are necessary, we will ensure your pets comfort by freezing the area with a long acting anesthetic and prescribing appropriate pain medication after the procedure. If more advanced dental procedures are required or recommended, we can arrange to have a specialized veterinary dentist either on site or by referral.
Diagnostic Imaging (X-Ray / Ultrasound)
Radiography and Ultrasound often play an important role in the diagnosis and management of cases. Our radiology suite is equipped with digital x-ray equipment and software. This allows us to produce high quality diagnostic images of your pet. We also have access to an ultrasound unit and the ability to perform detailed scans of the abdomen. Ultrasound is a very sensitive method of imaging that can identify a number of things that xrays can not. When required, all of our diagnostic imaging can quickly be transferred electronically to a board certified radiologist for expert interpretation.
Diagnostic Laboratory Services
St. Lawrence Veterinary Services is equipped with up to date, in-house laboratory equipment to run a variety of tests as needed to determine the health of your pet. These include blood cell counts, internal organ chemistries, urinalysis, and fecal parasite testing. In clinic testing allows us to rapidly and accurately get the answers we need to help your pet. For more advanced or specialized testing, we use IDEXX reference laboratories. Depending on the test, most reference lab results are available in 1-3 days.
Surgery / Anesthesia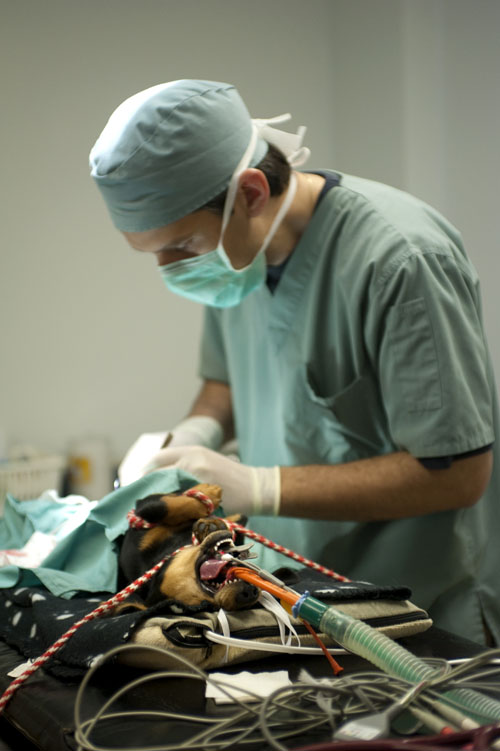 We are able to perform many of the surgical procedures your pet may require. These include elective procedures such as spay and neuter surgery as well as non-elective or emergency surgeries. We are experienced with many common procedures including biopsies, lump removals, wound repairs, and various abdominal surgeries such as foreign body removal, cystotomy (for bladder stone removal), and caesarian sections among others.

We are also one of the few clinics in Kingston offering the Tightrope stabilization method for torn cruciate ligaments. The Tightrope surgery is a relatively new and highly effective procedure to stabilize the knee in dogs that have torn their cruciate ligament.

Each of our surgeries are closely and carefully monitored by one of our Registered Veterinary Technicians using equipment designed to track heart rate, blood oxygenation, body temperature, and blood pressure. A heated air blanket is employed with each procedure to help keep your pet warm and cozy throughout their anesthetic and recovery.

Dermatology
Skin disorders are very common and often frustrating conditions to deal with. Our approach is to work through these problems in a complete and systematic manner. Sometimes the diagnosis and treatment will be simple, and other cases will be far more complex. Complicated cases can involve secondary problems, and often ongoing follow up care. We are committed to working with you and your pet to find a successful resolution in all cases.
Cardiology
Our staff veterinarians are experienced in diagnosing and managing various forms of heart disease. To support these cases, we will use various combinations of chest x-rays, electrocardiograms (ECG's), and cardiac ultrasounds as needed. Our ECG's are transmitted remotely to a board certified cardiologist. When a cardiac ultrasound is needed, these cases are referred outside of our practice. With proper management, many patients can live significantly longer with improved quality of life.
Glaucoma Screening
Glaucoma is a painful and debilitating disease that will eventually lead to blindness if left untreated. Diagnosis is made by measuring the pressure inside the globe of the eye using a precision instrument called an tonometer. We recommend that all senior pets are periodically screened for this condition. Early diagnosis leads to the possibility of earlier treatment and management. Depending on the cause, most cases can be managed with daily eye medication.
Nutritional Counselling
Good nutrition plays a vital role in the health and longevity of our pets. Currently, there is a lot of confusing and misleading information in the marketplace. It's hard to know what to believe! We are committed to working with you to find the diet that works best for you and your pet while providing honest information. Whether you need to discuss a weight loss program, allergies, urinary tract health, or a specific therapeutic or maintenance diet, we are here to help.
Parasite Prevention – Fleas / Ticks / Heartworm / Intestinal parasites
Parasites come in many forms including pesky fleas, troublesome ticks which can spread lyme disease, various intestinal worms, and the potentially fatal heartworm which is spread by mosquitoes. We have a wide variety of products available by prescription to aid in the prevention and treatment of all of these infestations.
Palliative Care
As our pets age, many will eventually develop health related issues. Some of these conditions can be cured, and unfortunately some can not. For those conditions that can not be cured, we are here to support you and your pet. We can help with pain management, mobility issues, nutritional support, and counselling on end of life decisions. Our goal is to help your pet have the best quality of life they can possibly have during their twilight years.
Grooming
St. Lawrence Veterinary Services has a busy on-site grooming facility staffed by a very experienced groomer. Tanya (Just Fur Dogs) is available to groom all breeds of dogs. Grooming appointments can be scheduled by calling the clinic.
Retail
We have a broad selection of both maintenance and therapeutic nutritional options from reputable food companies that produce quality diets with clinical trials and research to back them up. We also stock a small selection of toys, treats, and supplements.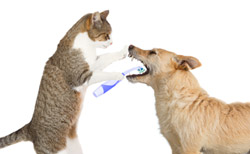 Dental Care: Did you know that dental disease is one of the top three medical problems in our pets today? Regular dental care is very important for your pet's health. Bad breath, discoloured teeth, red / swollen gums, and changes in your pet's eating habits can be signs of periodental disease.
Regular dental care is a must for your pet!
Dental disease may not only affect the mouth - bacterial and oral inflammation can affect the kidneys, heart, and liver. February and March are always "Dental Months" - during which a 10% discount is offered on dental services.